Identity and Uniqueness
Since 'Hospitality from the Heart' is Siddhartha Biz's motto, the Group embodies the popular mantra 'Atithi Devo Bhava:' (the guests are gods) through its quality services to the guests. The other signature mark of the Group is its physical environment in terms of aesthetics, greenery, space and cleanliness of the outlets. Therefore, a client can find himself in spacious environs amid open garden, cottages, water pools and fountains in most of the Group's outlets. Likewise, the Group is equally concerned about the taste and hygiene of the food. With an array of facilities and services Siddhartha Biz is a one-stop solution for all sorts of guests, who come to eat or stay or engage in interactive events. The Group invariably values the every rupee spend by its clients by offering quality and affordable food and service. Always offering service with smile, the Group bears in mind the 'three Hs'; hygiene, hospitality and happiness to meet up high standard hospitality.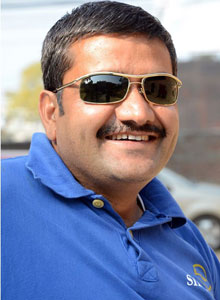 Message from Chairman
---
Siddhartha Business Group of Hospitality started with a modest fast food outlet in Tikapur Municipality in Kailali district on 5 February 1998. The growing popularity of the fast food stall eventually transformed into a multi-facility business hotel named Siddhartha Guest House in 1999. With hard work and team spirit, we now have more than 13 hotels, resorts and restaurants across the nation.Today SGBH has surpassed its services from fooding and lodging under its own banner to establish itself as a prominent hospitality enterprise and have established businesses in hospitality education, hospitality education, hospitality trade, travel and tours, cafes and agriculture.Every member of the SGBH family have relentlessly worked for years to make us what we are today.
Laxman Neupane
Chairman/MD
Message from Ceo
---
With almost two decades of success and experience in hospitality sector, we have started to diversify our company and ventured into hospitality education,hospitality trade, travel and tours, cafes and agriculture. We are not only committed to the growth of our company but also in the greater good of our community and our nation. This is also reflected by the location of our branches,our CSR activities and our company portfolio.We are fully committed in the production of hygienic food and best hospitality services as our motto is to offer you our services with 3 Hs': hygiene, hospitality and happiness. We greatly value customer satisfaction and make sure our growth comes from what value we can create for our customers. With the continuous support of the members of Siddhartha Group of Hospitality, our valued customers and stakeholders, we are set to scale new heights and achieve our most ambitious goals.
Krishna Neupane
CEO